Whether it be superspeed, overspeed, speedsticks. Lets talk about our attempts at getting faster and translating that to the course.
Last winter I purchased the SuperSpeed Golf speed training sticks. The full 3 club set w/o launch monitor or "C" counterweight stick. I committed to the protocol and performed it as prescribed for 16 weeks getting through Protocols 1 & 2.
As I started my golf season and attempted to bring that speed to the course I realized that over the 16 weeks I engrained a couple of swing faults mainly early extending (humping in the downswing) and getting stuck on my back foot. I struggled the first few rounds of the season with topping tee shots and was unable to find a predictable low point.
I'm convinced that this was user error and of course performed the protocols on my own without any consulting from a teaching pro. Its about time to dust them off again and try to do this the "right" way.
Anyone else have experience with speed training?
I've been using (not as often as I should) and have noticed swing speed increase. I don't have a monitor to quantify. Best I can estimate is that I was at 111mph when getting fit for new driver this year (I believe last fitting several years ago I was 105mph).
The thing I've learned - when you get to course/range, there's not need to try to swing harder. You'll naturally swing harder after user though you won't feel like you're trying to.
and that may be where I've made the biggest mistakes. I struggle with always swinging hard. So grooving a smooth swing with something that is supposed to help my swing faster is a bit of a mental challenge for me.
You certainly can swing harder and try to swing harder - but that's hard to control
I was worried that I didn't have enough time to practice with the harder swing and that's why I was wild. Then I slowed myself down and got it under control. Got on track man and saw I had gained speed without the effort. I'm sure more time doing it will yield bigger gains with the effort level. Probably with more practice I can go a little harder at it regularly, but certainly not needed.
I think you'll see gains in speed even with a "smooth" swing if you're doing it regularly.
(All I've done is protocol 1 and doing it 1-2 times a week since about February)
This can happen from time to time especially during the first Level when one is getting used to speed training. It often sorts itself out during the sessions. The step change drill if timed correctly encourages the player to get to front foot so there may be something in the way you were performing that drill. Make sure you are stepping out and planting hat lead foot before you finish your backswing.
The goal is to not have much in terms of swing thoughts during the training but filming yourself could help sort these issues and then building back up the speed once those are better
There is a definite change when one tries to swing hard versus fast. Often hard can cause you to grip tighter, tense your muscles, get out of sequence and actually swing slower. Try the cue to make the club move as fast as you can at impact or slightly ahead.
I have used them, caution, they are not for everyone, to avoid injury; warmup good and listen to your body.
While I don't have specific speed training sticks (yet?), I did catch the idea of lefty swing training from watching the videos. Now I use my warm up whip trainer from both sides daily instead of just my normal righty. I think it's a big help for stretching and conditioning.
I … like a lot of golfers on here … became a big fan of the Orange Whip when I got it - so much so that I added the "Compact" trainer, too!
Then they recently added a "Light Speed" … obviously: speed … trainer and that has also been great.
My basic protocol is start slow with the full length (standard) OW Trainer - then slow swings with the Light Speed - then ramp it up with the OW Trainer and then same with the Light Speed.
The Step Change Drill is of course a fantastic exercise; OW also offers other drills on their website.
I've not measured my swing speed before & after but using it has definitely helped me on my tee shots

Re: swinging harder…
FWIW my mantra is 'swing better, not harder' … ie. better path + better contact will yield better results.
WLD champ Tim Burke said something like… "Loose is smooth … and Smooth is fast!"
I'm on Week 2 of the speed sticks and like them so far. I started at 99 mph and I'm up to 104, the 5% gain they indicate (https://d.pr/i/Te6p7P) one should expect. At about a 2.6 yardage gain per 1 mph, that's about 13 or so yards. I've found that to be true so far on the course.
You definitely want to warm up before using SuperSpeed - they have a great video in their training library showing you how to get your body ready effectively
Just got the superspeed stuff, excited to start working with it and see the results.
Wait until you get to this drill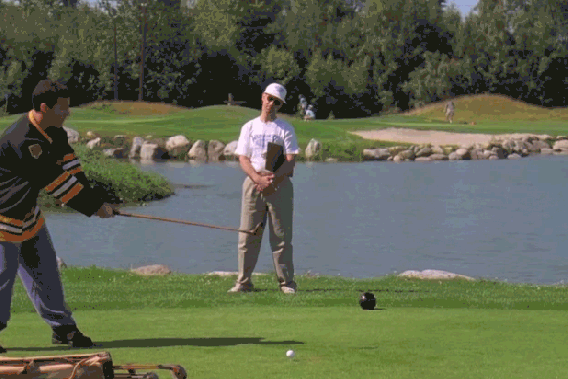 get to your happy place
I have the superspeed C and it has helped me smooth out my swing and I've gained 10 yards on my arrcos distance with a better strike and a little more speed.
SuperSpeed C is a great option for those who want to start off a little more slowly, and eventually can be combined with the regular program. Here was my review.
I've scheduled a webinar with the SuperSpeed team in October (details to come), and Kyle Shay (CEO) @SuperSpeedGolf will be interacting with everyone on here from time to time. We're coming up with some ideas on how to get forum members testing out the product to show their swing speed gains!
I've got deals on both for our readers:
SuperSpeed Traditional Set (if you want something other than Men's just message me directly!)
Also, the PRGR Launch Monitor is a great inexpensive way to track your speed during your sessions.
Sadly, I've never really had any benefit with them as no matter how hard I swing in practice, when I'm on the course I'm still conservative off the tee due to heavy treeline of my home course.
When I play away and try to RIP it I lose control.
I cant knock the science but just need to change my approach I guess
I bought the counterweight C club but haven't really followed their protocols. I do feel like swinging this stick helps with the feel of a proper release.