Hi everyone, first post, sorry for the length, this seems like a cool place to talk shop. As an amateur club builder and serial tinkerer I am in the garage a lot messing with clubs. I have built about 40 clubs from scratch and have "modified" well over 100. I can tell in about 3 swings if a club will work for me or not. If it doesn't work in 3 swings it ain't gonna work under pressure on the course. Every club in my bag was strategically built by me and although I play single-length irons, my 4&5i are different than my 6-9i which are different than my PW-SW. Lately, my general theory is to get your swing to an OK/good place then dial in/build your clubs around that swing. It's worked out well this year and I wanted to share a success story to start things off since this game mostly doles out despair but every once in a while your hard work and research pays off and you're sucked right back in!
A while back picked up a book called "How Golf Clubs Really Work and How to Optimize their Design". This old book explains, using physics, how and why just about everything happens to the golf ball and how club works. It's an interesting read but very dry and scientific, these are physicists after all.
Background: I play traditional-loft single length iron heads with mid-weight steel shafts at 37" from 4i-SW. In stock form with a stock swing, the 4i @24* went about the same distance as the 5i @27*, which was only about 5 yards farther than the 6i (170y). This is called long-iron droop and it's well known in the single-length world (tutelman has an article on it). 4i was already in garage-detention and the 5i was headed there, leaving a 40 yard distance gap from 170 (6i) to about 210 (7w). Tried SL hybrids, 9W, driving iron, variable length long irons but nothing was consistent or performed like my other clubs.
Shot Height:
In Chapter 10 about full iron/wood shots, it's says that the 6i (around 30* loft, or modern 7i) has the highest peak ball-height of any iron in the bag.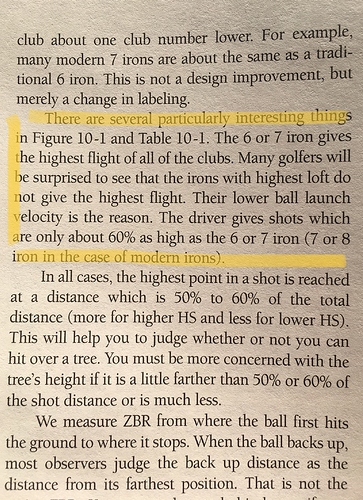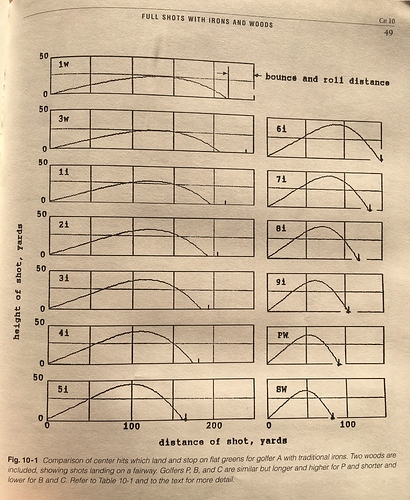 I had exhausted the golf forums and articles searching for this information, it was the first time I read a simple explanation to my long iron droop problems: since single-length iron swing speed is about the same for all clubs (not 100% true, story for another thread), when dropping below a certain loft one begins to lose distance because SL clubs don't get longer to speed up the head.
It seemed the solution was more head speed in these two long-irons (isn't it always), but since my clubs are all 37" and I'm unwilling to go longer, I needed to find a shaft with more "kick". To the garage!
Started off with a senior flex steel shaft I had lying around to see if that would help get the yards back and it did, but without perfect rhythm, dispersion was wider than my 5w. Next I cut/glued on an R flex steel shaft (I play "stiff") which also got a bit more distance but this was a 125g shaft and the swingweight felt heavier than my sand wedge! No go. Hesitantly, I ordered some cheap stiff graphite iron shafts and built up the 5i, tip soft-stepped ½" and 4i soft stepped 1". Both built ½" long at 37.5" length to compensate for the lighter shafts. Hit my distance goals but was missing everything right and could not get either club to turn over! Pulled the grips and cut them both down ½" to 37.0" just like the rest of my set, took them back to the range, and voila! I was absolutely blown away. 5i lands about 180 now and can hold a green (did it this Sunday on a Par-3 179y) and the 4i gets me about 185-190 with forward roll to 200y. Best part is both go pretty darn straight so dispersion blows away the hybrids and woods. My bag is officially complete, for now… but I have 4 putter heads coming in the mail!